At Elahi Eye Care, our staff is friendly and professional. Our commitment is to provide exceptional customer service to all of our West Monroe patients. We take pride in our personalized care and strive to spend the necessary time with each patient to ensure a comfortable experience.
Jackie Pyles is the office manager at Elahi Eye Care. She loves her job, coworkers, and patients. Striving to make the office fun, family-oriented, and productive is her primary goal, and she often offers her helpful "Jackie-isms" to help us get through the day! She often says, "if you enjoy your job, you never work a day in your life." After many years in the legal field and plenty of office experience, she came to this office as a receptionist but quickly earned the title of office manager. With amazing organizational skills, she has aided in smoothing daily operations greatly. Outside the office, she enjoys spending time with her grandchildren, watching documentaries, and reading.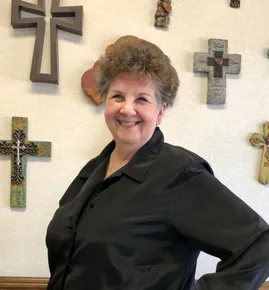 Linda Robison is Elahi Eye Care's optometric technician and has been with the company since it began practicing in this building. As she compiles your ocular information for the doctor, she may scold you with the same love your mother or grandmother would. Though she is from a small town called Jigger (have you heard of it?) in Franklin Parish, she lives and attends church here in West Monroe. After 22 years of working in optometry, she says that her favorite part is visiting with her patients, who she loves dearly. When she is not at work, she adores spending time with her grandkids and her pets, a spoiled dog and cat.
Leeona Johnson is primarily Elahi Eye Care's receptionist but helps all over the office. She especially loves her co-workers and meeting new people daily, as they get excited about seeing better with their new glasses. Though she was born in Tupelo, Mississippi and spent her childhood in various towns around there, she now lives in West Monroe with her husband and three boys. Her free time is spent with her family and friends visiting and playing games, and her pet peeve is having to fold laundry. Despite dropping out of high school, she was encouraged to pursue her GED, which led to EKG and phlebotomy licenses and believes that it's never too late to achieve new goals! Her laughter certainly keeps the office lively.
Sarah Wood is Dr. Elahi-Neal's scribe/assistant. She loves working here because she enjoys being part of a team that helps provide vision and health care to our community. Her 15+ years of experience brings lots of knowledge about the eye and its disorders, but she learns new things daily in her interactions with Dr. Elahi-Neal and their patients. Though she was born and raised in West Monroe, LA, she currently lives in Calhoun with her husband and their two boys named Dylan and Braxton. In her free time, she likes to spend time with her family and friends and enjoys going to the movies, cooking, swimming, and traveling. When she joined the Elahi Eye Care team, she quickly became a part of a family that loves to laugh and spend time with each other outside of work too.
Wendy Thomas is Elahi Eye Care's optician and loves her work family and patients. She has been working in optical since 2011 and brings a vast knowledge of eyecare beyond glasses alone to our office. Even though she is our newest addition to the crew at Elahi Eye Care, she has been a great addition to our quirky work family. While she was raised in West Monroe and graduated from West Monroe High school in 1989, she now lives in Marion, LA with her husband, dog, and multiple outside cats. One of her favorite things to do is spend time with her family and spoiling her 10 grandkids.
Our West Monroe optometry professionals are passionate about providing high-quality care to our family of patients. We focus on providing comprehensive eye exams, a large selection of fashionable eyewear, and the best possible vision care. Come in today to meet Jackie, Leeona, Wendy, Linda and Sarah to make an appointment.